News from the Healthwatch Assembly - 5th March 2020
The first Healthwatch Wandsworth Assembly of the year took place at St. Mary's Church in Tooting and our topic was mental health. Find out more.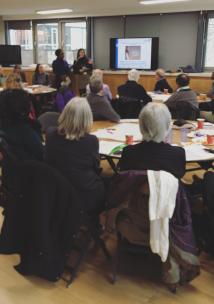 On 5th March 2020 we held an event focusing on Mental Health. We had presentations from a few key services and also discussed in groups how our local talking therapies services can support various groups in the community.
A report on the discussion session will be available soon.
Key Topics Covered
Thank you to all our speakers who all gave their presentations on the mental health services they are providing including:
Talking Therapies in Wandsworth and how they reach different communities (Talk Wandsworth IAPT services). Noel Brown, Melissa Mehmet and Helen McVeigh, Service Manager, Talk Wandsworth.
New ways mental health services are supporting young people. Robert Dyer, Commissioning Manager for Children's and Children and Adolescent Mental Health Services, Wandsworth Clinical Commissioning Group.

How are young people getting involved in deciding how mental health services develop in future. Frankiee Carr, Head of Programmes and Development, Silverlined Horizons.

Community Mental Health Transformation Programme. Gill Moore, Transformation Operation Lead, South West London and St George's Mental Health Trust.
Their presentations are available for download below.
We also elected our new committee members; Sarah Forrester, Penny Oakley and Charlotte Langley and would like to welcome them to Healthwatch Wandsworth. We're looking forward to working with them in the coming years.
The next Healthwatch Assembly was scheduled for 21 May at the Trident Business Centre, but due to the Coronavirus that won't be happening.
We are planning to do some online Healthwatch Wandsworth events and are talking to organisations to do these with, we will keep you posted and put detail up on our events pages once those are finalised.