Digital support for people with learning disabilities
The Council are currently looking at ways they can support more residents to use digital technology to help them do more.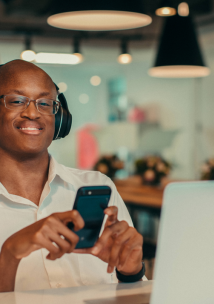 Healthwatch Wandsworth helped Wandsworth Council facilitate two workshops with Baked Beans actors at Baked Beans Theatre Company to understand how they could use technology to help with daily living needs.
The two types of digital technology demonstrated were Brain in Hand and AutonoMe.
Brain in Hand is an App-based platform based on Cognitive Behavioural Therapy that aims to enable people with learning difficulties, autism, and mental health problems to have greater self-management of their condition and overcome day-to-day challenges to live more independently. The app aims to help users remember things, plan a daily routine and tasks, and manage anxiety and stress. It can be used for relationships, travel, communication, medication, emotional regulation, independent living, organising, planning, socialising, and travel.
An online specialist will help the user set things up and identify goals and barriers to achieving these.
AutonoMe delivered a hands-on demonstration of the technology and students were provided with a tablet or phone so they could log in and watch a video on how to do practical tasks such as using the dishwasher, making a cup of coffee, using the washing machine, making beans on toast, and more challenging menus. Reminders can be set, such as remembering to brush teeth.  Users can also request specific videos that can help them.
An adviser meets the user to teach them how to use the app and support them.
What Baked Beans students told us:
Most of the students liked using the technologies however there were quite a few students who did not have smartphones and would require training on how to use them if provided with one. In session one, 5 of 12 students had a smartphone, and 4 would like to have a smartphone if provided. In the second session, 4 of 11 people had a smartphone. In this session about AutonoMe students were provided with a tablet or a phone to try the app.
The students felt there is a lot of potential in the AutonoMe app, and from a Health & Social care perspective, it could have a health and care section that provides users with videos on how to access health and social care services, e.g., explain what a care plan is, how to have a virtual appointment with the GP and healthcare service, etc.  Also, regarding practical things like a video on how to use your smartphone, just under half of the group thought that the App would be useful (5 of 11 people).
Half of the group (6 of 12 people) thought that the Brain in Hand app would be helpful.
Overall, the apps were seen as useful for some people and could help with digital exclusion. The next step could be to look at how people can be supported to get smartphones if they do not have them and to see if the Council or the app companies can implement our feedback about using the apps to help with health and social care.
If you would like us to work with your community groups, please email Delia Fitzsimmons at delia@wandcareall.org.uk or telephone 020 8516 7766.