Findings from our event about Mental Health in the Community – 16 March 2022
Read more about our event looking at supporting mental health and wellbeing in our community.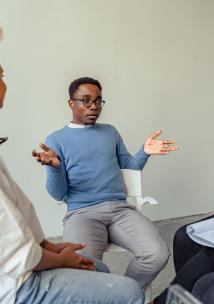 What we did
At our event on 16th March, we focused supporting mental health and wellbeing in our community, which has raised in importance since the beginning of the Coronavirus pandemic.The Voluntary Sector Coordination Service, Healthwatch Wandsworth and Voicing Views joined forces to host the event and discuss the topic further.
Firstly we heard from some speakers about some local initiatives. More information will be available online soon about what they told us.
We then broke out into smaller groups to discuss how the community can work together to support people in Wandsworth with their mental health. We discussed barriers to working together and how this could be overcome.
What we were told
Top barriers to service users working with services:
• Digital exclusion
• Services not going to local groups and communities where people feel more comfortable
• Services being too far away and therefore inaccessible
To overcome the barriers it was suggested that:
• Training is provided to help overcome digital exclusion barriers ((raining will help but digital exclusion is also about access to devices and those capable of running apps etc.)
• Services should make more effort to visit people within their community spaces to make them more accessible and reduce stigma
• Run events, such as a speed-dating session between services in the borough with a networking element
Next steps
We will use the information people shared with us at our event to inform our work over the coming year and will share the findings with those involved in making decisions about how the health and care system works. We will explore the possibility of running a future event to bring together services and collaborate.
You can download the report summarising what was discussed below.