Experiences of perinatal mental health in Wandsworth
Read more about the experiences of mental health for new parents in Wandsworth. Thanks to everyone who shared their experiences we have a number of recommendations to improve perinatal mental health support in Wandsworth.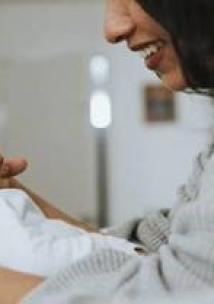 The perinatal period is officially defined to include pregnancy and up to 12 months after childbirth. We set out to hear from people who live in Wandsworth about their experiences of managing emotional and mental health wellbeing in pregnancy, childbirth or the first year after giving birth and becoming a parent.
What we did
We developed an online survey to ask Wandsworth residents about their recent experience of mental health and wellbeing during the perinatal period. The survey was promoted to various contacts through social media, outreach work and contacts at the Perinatal Mental Health Service, SWLStG.
The survey included questions on people's general experience of mental health and wellbeing as well as asking about specific services available in Wandsworth. The survey was open from December 2020 until April 2021 and 64 people responded to the survey.
We also attended a workshop held by Talk Wandsworth attended by new and expectant mothers and held a workshop discussion with a Cedar House support group for women who are experiencing postnatal depression.
Key findings
There were many positive comments about support from services. However, there were comments that suggested room for some improvements relating to:
Getting a referral and reducing waiting times for mental health support
Ensuring that issues are understood by health and care professionals who can then identify and refer people who need support
Co-ordination between services and continuity of care
Availability of support from community settings and forums
Availability of information about support available
Face to face appointments are needed some times. Although 'virtual' appointments are a useful part of care, they shouldn't be the only form of care.
Inclusion of family, friends and relatives, particularly partners has an impact on mental health wellbeing.
Some people told us they had lost faith in the system due to difficulties accessing support or because they felt they experienced unsupportive attitudes from some health and care staff. Some reported the need for a determined effort, attempting different routes to make sure they got the support they needed.
Recommendations:
GPs, midwives and health visitors could do more to provide information and space to check that someone is all right and knows how to maintain mental health wellbeing.
Some women highlighted that their problems and referrals could have led to more prompt support if there were better knowledge and understanding around mental health from the various professionals they were in contact with.
There should be further promotion of mental health support, including Talk Wandsworth or less formal peer support.
We would like reassurance about waiting times for access to Talk Wandsworth services, length of support offered and that priority is made for pregnant women and new mothers as a number of people reported waiting times and specifically mentioned this service.
Partners and support networks need to be better involved to provide support as far as possible, more information could be provided to them to provide support during the pregnancy and early parenthood.
Maternity services
Providing continuity of care from healthcare team throughout perinatal period should be prioritised.
Effort should be made for greater co-ordination of services, closer working and information sharing between services.
There should be at least a minimum number of face-to-face appointments with one or more of the services to ensure a relationship is built to ensure a better understanding of and conversation about wellbeing.
There were comments about attitudes and approaches of staff and that people felt they would seek support and feel more supported if staff attitudes had been more supportive and understanding. Consider how the culture may be developed to increase understanding of patients' experiences and feedback and increase their involvement in their care.
Health visiting and early years services
The support and opportunities for identification of mental health needs available from Health Visitors during restrictions and possible future restrictions should be reviewed, ensuring on and offline support. Ensuring meaningful interactions rather than a tick-box exercise.
Low level support networks like child health clinics, breast feeding support groups and children's centres have an important role which must be prioritised.
Finally, we should highlight that the number responses we received from ethnic minority respondents were low despite attempts to circulate the survey amongst a variety of community contacts. More needs to be done to specifically understand if there are any issues at referral stage and to understand experiences from across our diverse community.
What happens next?
This information will be used to feed back to local services to make sure they understand what is working and areas of improvements in order to provide the support people need.  
We are grateful to those who shared with us their experiences in what can be quite a tricky topic to talk about. To hear the rich picture of experiences, please do read our report, which can be downloaded below.