Our 2019/20 Annual Report is here!
Each year we take a look back at our achievements throughout the last twelve months and write about them in our Annual Report.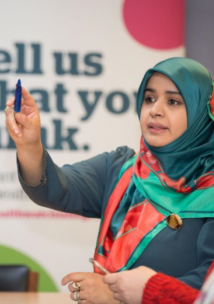 Thank you! 
First off, we would like to thank everyone who helped us to put people at the heart of health and social care.
We could not do our work without local people who shared their views with our dedicated team of staff and volunteers.
We are very grateful for support from voluntary and community organisations and staff working in local health and care services who helped us arrange to speak to the people they support; and managers and decision makers who have often helped us make sure this happens and have encouraged our feedback.
Read about our work over the last year and how it has made a difference. 
You will find examples of our work engaging with patients and local communities, helping them access services they need and advising decision makers in the NHS and social services on issues and challenges to be addressed.
A few examples:
Mental health was a priority this year. We worked with service users, families, carers and the NHS on improving services in the community, including Recovery Cafés.
Supporting people to return home from hospital can be complex. We conducted important reviews of the St George's Discharge Lounge and rehabilitation services.
People's stories remain central to our work. More people contacted us this year, to share their stories or get information.
Did you know...
We spoke to 831 people in Wandsworth.
We helped over 165 people navigate the health and social care system and get the information they needed.
We engaged with 4,799 people through our website. 14% more than the year before.
1,196 people engaged with us through social media.
If we're going to continue to make a difference we need to hear from even more people. 
Become a Healthwatch Wandsworth member for free. This means you will be kept up to date with our work and how you can get involved what we are doing.