Enter & View visit to East Wandsworth Community Mental Health Team
We went to speak to people who have support from East Wandsworth Community Mental Health Team (CMHT). We've written our report on what people told us, read this report and what the CMHT will be doing differently, based on what people told us.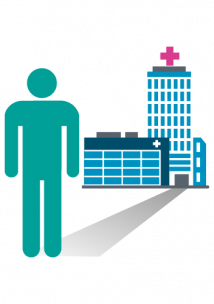 What we did
The role of Community Mental Health Teams (CMHTs) is to provide treatment and support in the community for people with serious mental illness who cannot be treated or supported by primary care services but who do not need to be in hospital.
Mental health is regularly identified by our members as a major priority. We were aware that the emphasis of mental health policy, nationally and locally, has been on minimising the need for hospital admissions by relying increasingly on community services.
We knew that South West London & St George's Mental Health NHS Trust (SWLStG) had recently made efforts to improve the quality of the performance of its CMHTs so we thought it would be timely to carry out an Enter & View visit to a CMHT. We decided to visit the East Wandsworth CMHT, one of three CMHTs in the Borough.
We aimed to use observation and interviews with service users and their carers to report:
How the service operates.
How far the service is meeting the needs of users and carers.
The impact of recent changes in service structure or operation.
How well the service works with other teams within and outside the Trust including on physical health and social care.
Key findings
The views we collected were mixed, as might be anticipated due to the varied and complex experiences of people with a mental illness.
The feedback from patients was generally positive. Some individuals singled out their recovery support workers and care-co-ordinators for praise.
However, most people identified some concerns and experience varied. Therefore, we recommended that the following areas were reviewed:
Respect for individuals: ensure that patients are not only respected but feel respected.
Choice: ensure that patients are given and understand as wide as possible a range of choices regarding their treatment, including a change of care coordinator if wanted.
Continuity of care: seek to minimise unwanted changes of care coordinator and of consultant psychiatrist and preparing patients for change, particularly of care coordinator, so far as possible.
Working with carers: ensure that carers feel that their voice is heard.
Discharge: ensure that all patients (including those not on CPA) and their carers are properly prepared for discharge and that following discharge, a letter is sent to the GP within 7 days.
The Trust should develop a welcome pack and/or welcome email for patients referred to a CMHT. This should cover what patients and carers should expect from the team and who to contact both during and outside working hours. 
More should be done to provide a reliably and directly accessible, as well as clinically qualified, out of hours (including weekends) source of advice and support for CMHT patients experiencing difficulty, with access to the Crisis and Home Treatment Team as necessary.
The team need to ensure that patients are involved in the co-creation of their care plans (or the next steps in their treatment if they are not on CPA) and their crisis plans and that they understand them and have a copy. In order to be able to document and monitor this requirement routinely the Trust should consider the need to amend its existing electronic records system.
The Trust should consider with the responsible commissioners the case for devoting additional resources to reducing the overall size and caseload of the East Wandsworth team in the longer term while minimising disruption.
What happens next?
We have shared our findings with the people who manage and run the CMHTs at South West London & St George's Mental Health NHS Trust (SWLStG) as well as other people who are in charge of such services locally.
SWLStG have provided an action plan to start work against some of our findings and recommendations. You can read both our report and their action plan by downloading them below.
Download the reports here