In May 2018, we held one of our quarterly events which members of the public attended to discuss health inequalities in Wandsworth. Read about what people said in our report.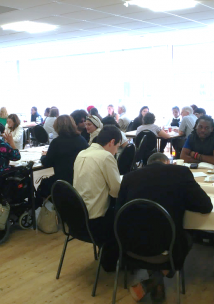 What we did
Wandsworth Council gave introductory presentations about health inequalities and then we had each table discuss three different questions in groups.
Our volunteers facilitated the discussions.
The first question asked people about their own experience of health inequalities.
The second question looked at specific communities and the challenges they might face getting the care they need.
The third looked at how these challenges could be overcome at an individual, community and organisational level.
Key Highlights of what people told us:
The complicated processes for accessing care and excessive form filling can be a large burden on particular groups (e.g. carers) or a barrier to accessing care for others (e.g. people who do not speak English or those with sight loss).
Some people do not access health services out of fear of negative consequences such as stigma or discrimination (e.g. LGBT+ people), or stigma around certain health conditions such as HIV. Participants said that there is stigma around certain health issues that are also cultural issues for some BME groups.
Health communications need to specifically target hard-to-reach groups, taking into consideration the values and norms of different cultural groups.
Participants also highlighted the need for:
Tackling the stigmatisation of particular health conditions and patient groups as well as the need to improve access to services for particular patient groups that are at risk of experiencing health inequalities.
Emphasising the need to educate health professionals about a) the issues faced by particular patient groups and the diversity of health needs within those groups and b) how to communicate with patients from particular groups to improve access to services.
The need to raise awareness about where and when to access services and the stigma of accessing services needs tackling within community groups themselves.
---
You can still view the presentations from the event.