Key Health Issues in Early Years
The health and development of children and young people can have far reaching consequences later on, both physically and mentally. Find out about the priorities of local people we spoke to about this issue.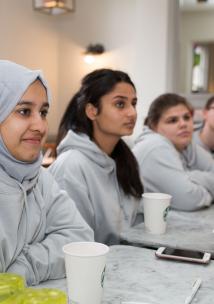 What we did
The London Assembly Health Committee (LAHC) is drafting a Health Inequalities Strategy which hopes to tackle unfair differences in health to make London a healthier, fairer city.
A key area of the strategy is children and young people - studies show that a considerable proportion of London's children have health problems which could impact on their future wellbeing. 
We developed a survey and asked people to comment on these issues and used it to help raise awareness of the importance of good health in childhood.
Key findings:
Parents thought that pollution and diet that impact the most of under-5s. It is the cost of accessing healthy food as well as spaces to exercise.
Additionally, the services (GP, Children centres, Health visitors) are good places for parents to get support for free and widely accessible. However, there needs to be more promotion about services available for parents with young children.
Concerns were also raised about the affordability of healthy food, and the impact that income has on maintaining a healthy diet and exercising. Respondents suggested that more support and resources are needed, particularly in low socio-economic areas, to better educate people on healthy eating and to provide affordable and free exercise options for families.

The feedback highlighted the need for more accessible and affordable public transport, including additional lifts and buggy space at tube and train stations, as well as the increased provision of baby friendly changing spaces across the city.
50 people took part in our survey. We sent our report and findings to the LAHC and to the people in charge of local children's services. We hope it will influence future changes to these services.
Find out more about what local people told us about health in early years.
If you need this report in a different format, please email