Great Weight Debate Consultation
Wandsworth has a higher proportion of obese children than the England average and low levels of awareness about obesity and the many related health risks presents a serious local and national challenge. Hear local views on the topic in our report.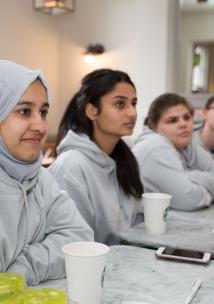 The children of today are the leaders of tomorrow so we need to make their health and wellbeing a priority
What we did
In Wandsworth, almost 20% of 4-5 year olds are overweight or obese. More than 30% of 10-11 year olds are overweight or obese.
Childhood obesity increases risks of psychological disorders, certain cancers and diabetes. It also puts increased strain on services.
Our questionnaire tested the level of awareness of factors that local residents considered contribute to childhood obesity, and sought their ideas on what changes could be made at a community level to support children and families to lead healthier lives.
The questionnaire comprised of seven questions to unearth what changes Wandsworth residents think will make it easier for people to make healthy choices.
We aimed to raise awareness of the challenges to leading healthier lives while also inviting residents to feed back their own ideas for change and improvement in the borough to support Wandsworth Council to tackle childhood obesity.
The survey was open from November to December 2016 to offer residents chance to take part in the campaign and was also taken taken to outreach events.
Key Findings
The results of our survey responses support findings by experts that the key causes of childhood obesity are a combination of environmental and social factors including:
The availability of fast food
Unhealthy portions
Confusion about healthiest food options
The city environment, for example discouraging walking and cycling.
Respondents to our survey thought tackling childhood obesity should be a national and local priority.
According to our survey the following strategies should be considered:
To Increase awareness of obesity related problems and comorbidities: especially in schools and amongst parents
Promote healthier food choices
Promote exercise facilities.
Responses and suggestions echoed findings of our earlier consultations.
Healthy food has been a positive lifestyle choice often identified in our 'What Keeps Me Well' survey.
Young people responded to our Healthy Alternatives to Junk Food consultation suggested that there was an awareness of healthy food options. However, convenience, appealing taste and low cost of healthy food would encourage them to make the right choices.
We recommended further investigation of practical solutions to address the obesity problem by engaging local communities to develop them.
 Parents particularly have direct influence over the choices children are able to make. Importantly this implies that residents throughout the borough should be enabled and encouraged to make healthy lifestyle choices.
To be effective these choices need to be easy and suit the daily lifestyle, and needs and preferences of residents e.g. availability of exercise that is convenient and enjoyable, such as a walk or cycle to work or being able to quickly purchase a healthy meal.
To be inclusive the right choices must be cost effective for personal budgets.
For more information read our report on Wandsworth's Great Weight Debate Consultation.