Get ready this festive season: community conversations about keeping well and hear more about getting vaccinated
South West London webinars with a local GP on how people can stay well over the festive period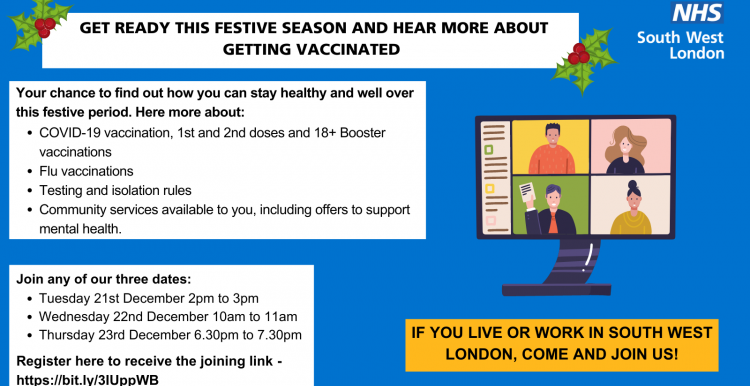 There are webinars and online events happening in South West London and across London, where you can ask the experts about keeping well this winter and the COVID-19 vaccinations.
South West London:
These webinars are open to all communities, staff and anyone working or living in South West London to hear from a local GP about:
Covid-19 vaccine
18+ Booster vaccine
Testing and isolation rules/requirements
Community services available to you
How you can stay healthy and well this festive period
There have so far been three scheduled and more dates will be added. Below we have included a recording and presentation slides from one of the webinars that has already happened.
To find out more and register your interest, please sign up here:
London wide:
Health leaders, the Mayor and community organisations are working together to help get #LondonInformed about the current Covid-19 situation, the threat posed by Omicron and the importance of the vaccine programme. Come and put your questions to senior health experts at the first two Big Conversation events.
There are two sessions already scheduled, and more dates will be added:
Guest experts include:
Dr Muhammed Wajid Akhter, Assistant Secretary General, Muslim Council of Britain
Dr Tehseen Khan, GP and Senior Clinical Advisor to London COVID-19 vaccination programme
Dr Salman Waqar, General Secretary of British Islamic Medical Association
Dr. Muhammed Haqmal, previously Public Health Lead in Afghanistan and is now a lecturer in London
Sherifat Muhammad Kamal,  Specialist Pharmacist and Clincal Lead for COVID-19 vaccination centre
Dr Debbie Weekes-Bernard, Deputy Mayor for Communities and Social Justice