Spotlight on Support Available from Wandsworth Carers' Centre
This mental health month, we would like to shine a spotlight on Carers in Wandsworth, and the work of Wandsworth Carers' centre to support Carers and their mental health.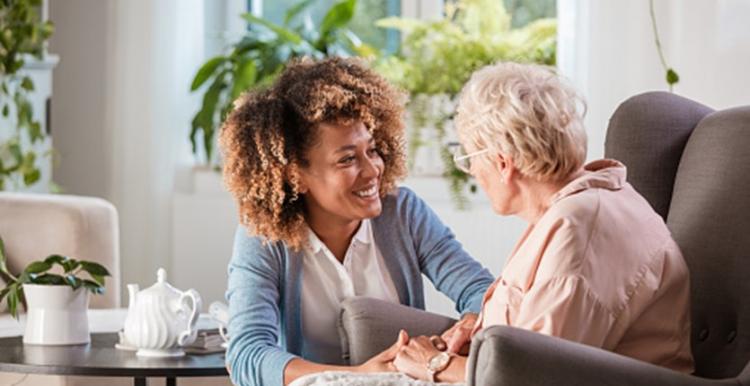 A Carer is someone who, without payment, provides help and support to a relative or friend who could not manage without their help due to frailty, illness, disability, a mental health condition or substance misuse. It is estimated that one in ten adults are carers in the UK and there has been a significant rise in the number of people providing unpaid care since the coronavirus outbreak1.
Of these Carers, up to 1.5million people in the UK are caring for someone with a mental health problem2, and those providing care are also experiencing negative impacts on their own mental health. Research shows that almost two thirds (63%) of Carers have not been able to look after their own health and wellbeing during the COVID-19 pandemic3. It is more important now than ever for Carers to be supported, and to know what help is out there.
Where can Carers go for support?
Wandsworth Carers' Centre is a local charity supporting unpaid Carers who live in or care for someone who lives in the borough of Wandsworth or has a Wandsworth GP.  They offer a host of free, confidential and professional services to support Carers in their caring role and to help them to look after themselves including counselling and complementary therapies like massage, reflexology, and acupuncture, to name a few. There are also training sessions and workshops which Carers can attend to learn how to take care of themselves while carrying out their role. Carers are also invited to take part in various activities and events throughout the year run by the centre such as monthly yoga and wellbeing sessions, relaxation sessions, a writer's group, and laughter yoga.
Connecting with other Carers who are in a similar position and taking a break from caring is especially important for mental wellbeing. Wandsworth Carers' Centre have set up a number of peer support groups that carers can join to help build support networks and meet other Carers; there are separate groups for Learning Difficulties, Dementia, Older People, Mental Health, Neurological conditions, Autism, Asian Carers, LGBT+ Carers and a coffee club for all Carers.
Sometimes, though, it can be challenging, or even impossible, for Carers to take time out from caring and so the charity also provides respite care to help Carers if they are stressed out or need a break from caring.
Other services offered by Wandsworth Carers' Centre include:  
Support, Information & Advice on a wide variety of things e.g. Carers' Assessments, welfare benefits, help with forms, applying for grants, housing, accessing other services.
Specialist support - for Carers caring for someone with a learning disability, Autism, a mental health condition, Dementia, Carers affected by another adult's drug or alcohol misuse, older people, Asian Carers, Carers of someone with a neurological condition and Carers from the LGBT+ community.
Carers' Connect Newsletter - information and news on issues affecting Carers.
Participation - getting involved, influencing services and having a voice.
If you are a Carer, or know someone who is, you can refer to the service using the below link, or contact the Centre using the details below.
Wandsworth Carers' Centre is committed to providing services to all sections of the community, their offices are accessible, and members of staff speak Urdu, Punjabi, Hindi, Vietnamese and Cantonese, as well as English.
Contact Details for Wandsworth Carers' Centre
Find out more about the Carers' Centre on their website
Email the Carers' Centre
Telephone: 020 8877 1200, Monday - Friday 9.30am - 5.30pm