Dementia Action week - 16 - 22 May 2022
This Dementia action week, help raise awareness of Dementia and find out what is available in Wandsworth to support people.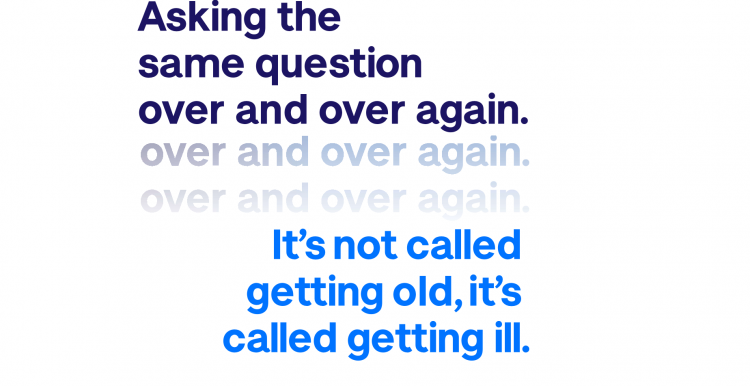 During the pandemic people have told us that there has been a significant impact on people with dementia and their carers as some services have not been available as usual. People told us that they want more information about support that could be available so this Dementia Action Week,  from 16 - 22 May, we want to raise awareness of Dementia support available. Help us to spread the word.
Dementia Action week Campaign
The Alzheimer's Society will be promoting diagnosis as the theme for this year's campaign. Their research shows that the misconception around memory loss being a sign of normal ageing is the biggest barrier to people seeking a dementia diagnosis. They say that getting a diagnosis can be daunting, but they believe it's better to know and so do 91% of people affected by dementia. They want to encourage those who are concerned they or a loved one may be experiencing signs of dementia to seek support and guidance from them about next steps to take, what to expect during and after the diagnosis process, and what support Alzheimer's Society can offer throughout. 
To find out more about the campaign visit the Alzheimer's Society website. You can download or order posters and leaflets. You can also promote signs and symptoms with this poster.
If you would be interested to invite a Demetia Friend Ambassador to deliver a 45 minute awareness session to your group during dementia action week or any other time, contact Dementia Friends using this website or email leanne.stephens@alzheimers.org.uk.
 
Support for people with dementia and their carers varied over the pandemic for a number of reasons. In February and March 2022 we called several dementia support services to find out what they are currently offering listed below.
Dementia specific support for people affected by dementia and their carers
Iris Dementia Cafe: chat to people and share experiences in the Balham area every third Saturday of the month from 16th July 2022. The cafe runs between 2.00pm to 4.30pm at St Luke's Church, 194 Ramsden Road, Balham SW12 8RQ. Here is more information.
The Transition Project: This project supports Carers of someone with dementia or someone with a learning disability, to plan for the future and identify housing options available to them. The project was suspended when we spoke to them. Here is more information.

Alzheimer's Society Singing for the Brain: Singing session led by a musician - every Friday 2-4pm, Blaham Baptist Church

Alzheimer's Society Side by Side: volunteer buddies with interests in similar activities, call Andrea 07703 471 517 or email wandsworth@alzheimers.org.uk

Alzheimer's Society Love to Move: For Merton residents only. age and dementia friendly seated gymnastics programme every Wednesday 3:30-4:30pm, online or at Merton Dementia Hub

For Merton residents only:

Alzheimer's Society Carers Peer Support Group: For Merton residents only. 2nd Monday (6:30-8:30pm) or 4th Wednesday (10.30am-12pm) - Zoom meetings
Alzheimer's Society Carer Information and Support Service (CrISP): For Merton residents only. course for carers to learn how to look after someone with dementia - Zoom meetings
Rare Dementia Support Group: runs online support groups and webinars for young (U65's) and rare types of dementia (www.raredementiasupport.org)
Non specialist support that is Dementia friendly
The following are services available that may be that may be suitable for people with mild to moderate memory loss. They cannot support people who have personal care needs or those who wander. The services should be contacted first to discuss the level of support required before deciding to attend.
Young Onset Dementia Support Group: More information here.
Wild Times Clapham dementia friendly nature discovery: dementia friendly nature discovery: over-55s outdoor sessions to explore nature, share skills, garden, create and chat to help support wellbeing. More information here. 
Weekly lunch & activities club: STORM family centre, Doddington Estate. People can attend with their carer but not specialist dementia support 020 7498 0311
Regenerate-RISE: Putney and Battersea; social club/activities day center that may be suitable for people with mild to moderate memory loss, in-person only; More information here.

Mushkil Aasaan Care Agency: A range of services, befriending, advice and advocacy but not specialist in complex dementia support. Languages: Urdu, Gujarati, Hindi, Bengali, Punjabi, Arabic, Somalian, French, Tamil and British Sign Language. Contact 020 8672 6581   

Furzedown Project: programme of social, educational, and recreational activities to improve wellbeing and independence for older people. Not specialist support for complex dementia, but some members have mild memory problems and early-stage demental. More information here.

Hestia Age Activity Centre: space for people over 60 to socialise and learn new skills; may be suitable for people with mild to moderate memory loss. More information here.

Roehampton 60+ Drop in Café:  various activities people can attend with their carer but not specialist dementia support. 020 8788 5577
Other support and resources 
Before the pandemic a really useful guide was created with information you might want to know about dementia, what to do and where to find support. As things have changed since the pandemic so service information may have changed, but there is still a lot of useful information and tips about what do do. You can view the guide here.
The Alzheimer's Society have a webpage you can use to search for services here.